Reklama na Kulichkah
---
MITKI Homepage News
---
2007
Mitki In New York City Exhibition
December 4, 2007-January 8, 2008
2006
NEW JOINT MITKI AND the KROKODIL magazine website dedicated to Alternative Mitki G8 Summit starting July 2006


May 9, 2006: The Victory-Day Celebration Interview with Dmitry Shagin in Petersburg Diary

Mitki Homepage has moved to a new website on April 19, 2006! Stand by for more updates!
---
---
April 1999
Mitki Exhibtion "Mitki on Long Island" opened on March 25th 1999 in (sic!) Long Island!!!
Interart Gallery, 389A New York Avenue, Huntington, NY 11743


Mitki presented their music and movies at the Lion's Den in NYC on April 7th, 1999: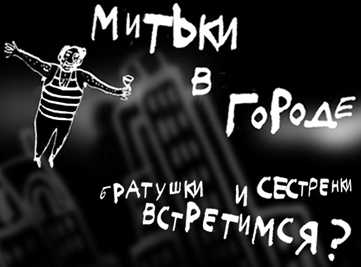 ---
February '99
MITKI CDROM on the web

Program is a success. It is made in similar manner to the computer game "Monti-Pythons Complete waste of time". CD contains animated Mitki fables, music videos of Mitki songs, Mitki paintings, and computer game "Save the little sister".
Only short segments of the animations and videos are available on the web, but it is still plenty of fun.
Подпишитесь на "Объявления Митьковской Странички" -- и вы будете извещены о новостях, изменениях и пополнениях на нашем братковском шмудаке
Митьки очень рады поотягиваться на интернетном шмудаке и официально поддерживают эту страницу: [Митьки поддерживают интернетушку], [Персональное посвящение В.Голубева], [Золотая Кружка от В.Шинкарева] и [Артифакт Йые от А. и О. Флоренских]
January '99
Movement toward Yiye Mr. and Mrs. Florenskii

Complete text of Prof. Barinov's diaries hosted by Radio Baltics
Incomplete and informal list of Mitki members and links to their works
December '98
Dmitri Shagin is shocked by the murder of Galina Starovoitova, whom knew and was personally and politically collaborating. See a story by AP

Also check online version

A new website dedicated to Mitki is being created by Maxim Peregood, a long-time friend of Viktor Tihomirov

Visit of Mitki members to Mount Athos in Greece

Dmitry Shagin and Eugene Zubkov have just returned from the Pilgrimage to the Holy Mt. Athos where unfortunately no other members of Mitki could join them. Dyusha and Kolya Bekh were there, plus some other friends. The group visited 7 monasteries and traveled extensively in the Monastery Republic of the Mount Athos. The group was headed by by Father Markell this time. Next year Mitki plan a trip to Constantinople and Holy places of Italy.

October '98

Mitki released a computer program "Mitki".

Samples of Mitki animations and music videos are placed on the web

Mitki have organized charity rock-show "The House on the Hill" (article in St-Petersburg News (in English))

The show was dedicated to the opening of the first private alcohol addiction treatment center. Among participants were such bands as Auktsion, Dysha Romanov, Sankt-Petersburg, Kolibri, DDT
Mitki have completed an official pillgrimage to Jerusalem on Easter 1998

September '98

September '98

Exhibitions of Tihomirov and Grebenshikov
Project "Vodka" is also reperesented here
(how to get drunk and why to get drunk)
"Serapionov's Sisters"
Notes of influence of village Felapontovo
Vologda district on life and art style of Mitki
about art activities in St-Petersburg
sent by Vlad Levchenko
Online newspaper about S-Petersburg
English Translations of Shinkarev's works by Mark Bence
in Centrall Exhibition Hall "Manezh"
from city newspaper "Friday"
The most recent interview with Dr. Zubkov on the hot
topic of Russian life with refernce to his dear friends
from the central newspaper "Argumenty and Facts"
takes place in NYC May 6-10th, 1998.

Nevskoye Vremya (Neva Times) remembers Oleg Grigoriev

April '98

Mitki: A Restrospective Celebrating the 15th Anniversary of the Mitki Movement

Manezh Central Exhibition Hall Daily 11 a.m. to 6 p.m.

Petersburg's Mikti group presents various works in the tradition of their underground, pacifist philosophy.

Members of the Mitki "Politburo" participating include Dmitry Shagin, Vladimir Shinkarev, and

Alexander and Olga Florensky. Ends April 17.

Also see St-Petersburg Vedomosti about the exhibition

Professional Ear

by Vasily Golubev and Nikolai Bekh

Mitki leader Dmitry Shagin offers his ear to Evander Hollyfield

February '98

Mitki are returning from a trip to Munich

Mitki Photographer Boris Smelov passed away

Alexander Florenkii "Russian Album"

Verses "Razroznennye Khe" by Mikhail Sapego (tm)

"Mitki and Sex"

"Mitki remember Daniil Kharms"

News about Mitki activities

January '98

"About Lenin" fairtale (Drawings by V.Golubev)

and other cool "real audio/video" on www.freelines.ru

June '97

Finally a place to leave your comments

Collection of letters from Mitki page surfers

20 at 16 Ulitsa Pravdy, near Vladimirskaya Metro Station

5-17 June 1996, Moscow

Musical Mitki movie where popular artists
perform favorite navy songs.

Aleksandr Florenskii sends a letter to the homepage.

Februry-April '97

Russian Central Magazine "Ogonyok" publishes an interview with Andrei Bitov (one of the best contemporary Russian writers) and it is about Mitki

Vladimir Shinkarev helps with the homepage design and spring-cleaning. More on that later.

A letter from Sergei Lobanov and Dmitri Shagin lists some more recent Mitki exhibitons:

21.01.97 "Levchenko zhiv!" na vechere pamiati V.Vysockogo. Moscovskiy dvorec molodezhi. Seriia komp'uternoy fotografii s ispol'zovaniem kadrov "Mesto vstrechi..."
Russkiy patent. O. & A. Florenskie. Dec. 1996 Borey Art Gallery SPb.
Mitki - flotu. Mart - Aprel' 1996. Central'niy voenno-morskoy muzey SPb.
Nov 1996. Moscva. Central'niy Dom Hudozhnika. Expoziciya Mit'kov na Rossiyskoi hudozhestvennoy iarmarke "Art Moskva".

January '97

MITKI GAZETA N1

E-version of Mitki Gazeta N1 on the web
Here We Are Unlimited, Inc., Boris Rayskin, artistic director,
brings the SKIIFestival to New York and the world in memory
and celebration of the great russian pianist.

December '96

Live Performance by AQUARIUM Dec.28, 7pm Moscow Time
Mitki quotation books have been updated
Mitki - Gazeta N3

November '96

Book of Verses by Dmitry Shagin
Land of YIYE -- by Alexander and Olga Florenskii
Mitki quotation books
Mitki celebrity photos
Legendar bratok of NYC -- Konstantin Kuzminskii

September '96

Mitki record the second musical album which immediately becomes an absolutely necessary for any self-respecting Mityok:

June '96

Mitki continue their support of WWW page: they have sent me even more valuable brochures and books:

May '96

Mitki Endorse the Homepage

Mitki found out about this homepage and were very happy. They provided Dr.Zubkov a bunch of presents and interesting materials for our effort. Here are personalized dedications from Vassily Golubev and Dmitry Shagin

Mitki have release a major contribution to Russian folk music - "Mitki' Silence" is a professionally produced compilation of some of the most famous Russian urban lirics performed by Dmitry Shagin and great Russian rock-idols: Boris Grebentshikov and Vyacheslav Butusov

April '96

Illustrated by Aleksander Florenski and published by "Veselye Kartinki"

The booklet is illustrated by Aleksander Florenski

Collection of paintings by Vladimir Shinkarev

March '96

Letters from MITKI Homepage visitors - dorogih bratkov i sestrenok

January '96

Another great book by Vladimir Shinkarev

---